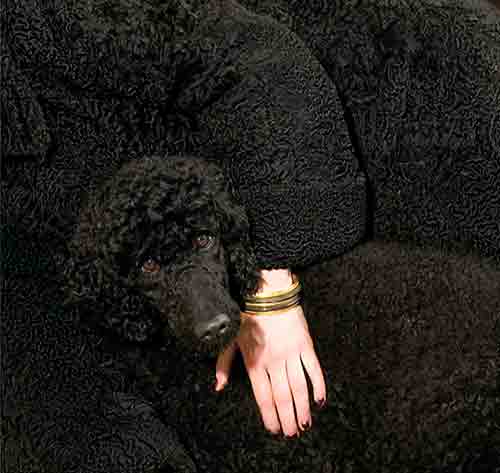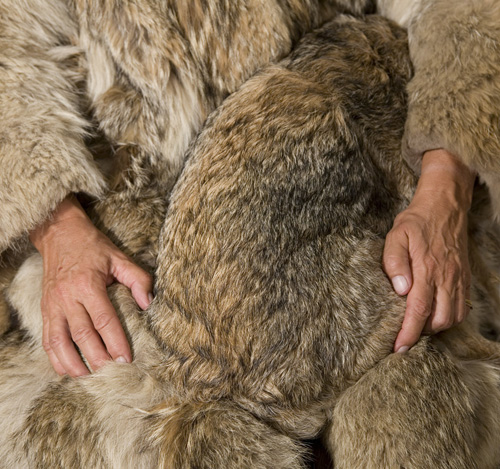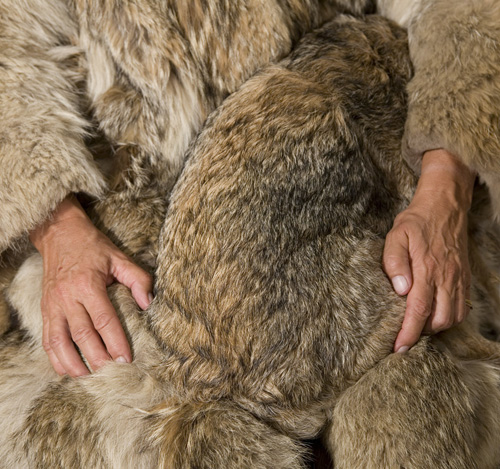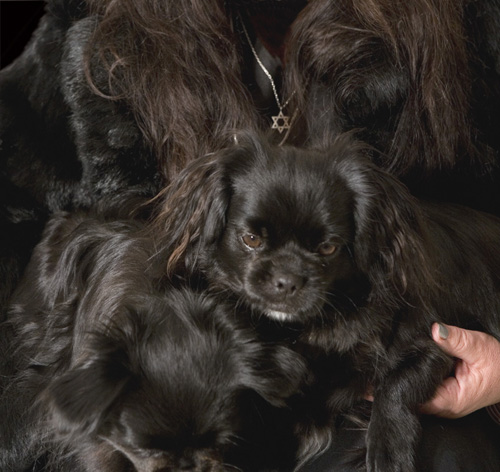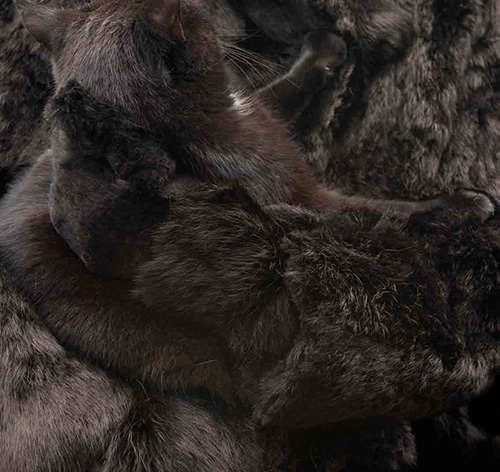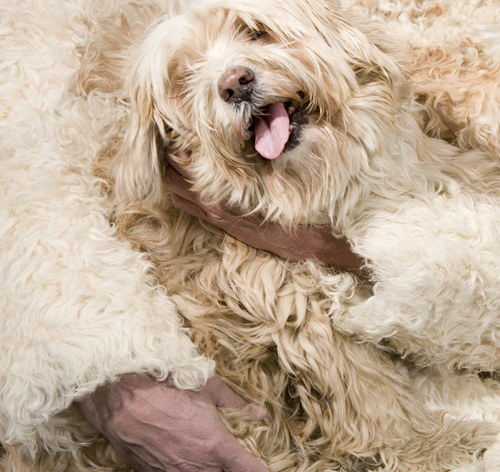 Scroll down for swedish text
UNIFORM
A few years into the third millennium, three things happened, that at different levels may explain the images in the series Uniform.
– One could read these kinds of headlines: " WARNING! Your winter coat may be made of dog fur"
– My father moved into a home for people with dementia.
– An old man went for a walk with his dog in Berlin.
Dog fur
This dealt largely with the winter's China-made parkas, which appeared on the European market. The rim around the hood was made of unspecified fur and could have been dog, fox, or any other animal that is used in China's fur production. Readers were shocked and wrote letters to the editor about the brutal Chinese people who slaughtered their dogs, and stripped them of their fur to make money. Even cat fur could be bought from China – there was no limit to their cruelty.
I started to think about how I could do a work about this cultural valuation of various animal species.
Some animals go long walks in the forest and cuddle on the couch in the evening, whereas other animals are so stressed that they nibble at each other and run around in circles in their cramped cages. In one of designer Stella McCartney's videos, made with a hidden camera, you can see how the foxes in fur farms are killed by electric shock in the anus. The electrocution is so weak that it takes an eternity before the foxes finally die.
"After watching this video, do you still think it 's fashionable with fur?" Stella McCartney asks at the end of the film.
Fur production is cruel all over the globe, not just in China, and not just when it comes to dogs and cats. The fur industry uses the cheapest possible methods of killing animals. Even though the meat industry is horrifying in many ways, you have to give them credit for using methods that quickly kill the animals. The meat should not taste of stress hormones. It's about profit maximization, about making as good a product as possible, so that you can charge as high a price as possible. The foxes and minks in the fur industry suffer, but it is not visible in their coats.
Father
It was not possible for my father to stay at home anymore. Now he was so forgetful that we had to move him to a home for people with dementia. Ängslyckan, one of
the municipality's homes , proved to be a very good place, and he thrived immediately with the staff and the other people there. The problem was, he constantly worried about his animals.
He had had animals all his life, and the absence of them made him confused and anxious.
My sisters and I wondered if it would soon pass, or if there was anything we could do. One day I brought a piece of lamb fur and stroked his hands with it and he immediately calmed down. A piece of lamb fur, a dead lamb, worked just as well as a living.
It seemed absurd: fur as a substitute for the animal itself. Another memory popped up, which was about the same thing. In my twenties when I didn't have any animals of my own, a friend of mine, had a rabbit fur. Every time we met and hugged each other, I didn't want to let go. She became the animal I longed for.
The man with the dog
It was winter and I was walking around in the suburb of Marzahn in Berlin. A year earlier I had interviewed some people there for the video Es war ja nicht alles schlecht .
Marzahn is a poor, gray "Plattenbau" suburb, which means that the houses are built of prefabricated building elements. Berliners in the GDR moved here in the 1960s and '70s, from moist, dark apartments in the inner city. Here the houses were well insulated, there was hot water in the tap and bathroom, and central heating instead of charcoal ovens. For those who had carried heavy coals from the basement up to the apartment every day, it was heaven to move out here. Half of the houses were empty now; it was only unemployed and pensioners who lived here.
I had filmed the demolition of houses during the day, and late in the afternoon, I went through a park to the S-Bahn station. Then I saw a man with his German shepherd. The man and the dog looked the same. They were both old and hunchbacked and moved laboriously. The man had a coat that came to well below the knees, probably a wolf fur, because it was the same color and texture as the German shepherd's fur. I had to sneak by and observe them until they finally disappeared into a doorway. My heart was sore, they were so great together.
Opponent to fur clothing that I am, something occurred to me. Had I been in the inner city and seen a young man or woman wearing the same coat as his dog, it would certainly not have brought out any tenderness in me, quite the opposite. Then I would have thought of the Paris Hilton syndrome, the dog as accessory, that it was all about fashion and image.
The fact that today we have to fight for animal rights in society, is a sign of the times we live in now. The world's population growth has meant that we crowd out the wild animals from their home areas. The huge fishing trawlers pillage the seas. In factory farming the pigs can't live in dignity before they become bacon. The odds of humans and other animals are so unfair .
Today, there are other materials that are as warm as fur. The man in Marzahn looked to be at least eighty years old and had certainly had the fur most of his life. The wolf that was in the man's coat probably had a natural wolf's life. At that time there were plenty of wolves in Germany and Poland. The farmers had to defend their sheep against them. If you shot a wolf, of course you should use the coat as well; anything else would be a waste.
I remember one Sunday in the 1970ies when we ate Bamse for dinner. Bamse was my "horse". Actually, he was an ox, but because my parents could not afford to fulfill my desire for a horse, I pottered about with Bamse as if he was one. I curried him when I got home from school, keeping his coat shiny, and I nuzzled him as with my dog. I could sit on him, but not ride – he didn't want that. He was a very big pet in the end, who came running when I came home from school and wanted to be scratched around the horns. One day he was full grown and had to go to be slaughtered. We had a self-sufficient farm, and the animals we had, we ate. That's the way it was. This Sunday mother's voice was wobbly, when she told us it was Bamse we would be eating. The whole family sat silent and grave and ate. I thought of my Bamse, but didn't resist eating him. I was hungry.
Lisa Strömbeck, June 2009
UNIFORM
I början av 00-talet hände tre saker som på olika sätt kan förklara de tretton bilderna i serien Uniform.
– Man kunde läsa den här typen av rubriker i tidningarna: "VARNING! Din vinterjacka kan vara gjord av hundpäls!"
– Min far flyttade in på ett boende för dementa.
– En gammal man gick en tur med sin hund i Berlin.
Hundpäls
Det handlade framför allt om vinterns Kina-tillverkade parkas, som kommit ut på den europeiska marknaden. Kanten runt kapuschongen var av ospecificerad päls och kunde lika gärna vara hund som räv, eller något annat djur som man använder i Kinas pälstillverkning. Läsare var chockerade och skrev insändare om de brutala kineserna som slaktade sina hundar och flådde av deras pälsar för att tjäna pengar. Även kattpäls fanns att köpa från Kina – det fanns alltså inga gränser för deras grymhet.
Jag började fundera på hur jag skulle kunna göra ett arbete om denna kulturella värdering av olika djurarter.
Vissa djur går långa skogspromenader och fredagsmyser i soffan, och matte hostar utan vidare upp femtontusen för att låta operera ut ett batteri som älsklingen råkat svälja. Andra djur är så stressade att de gnager på varandra och springer runt, runt i sina trånga burar.
I en av designern Stella McCartneys filmer, gjord med dold kamera, ser man hur rävarna i en pälsfarm avlivas med elektriska stötar i anus. Elstötarna är så svaga att det tar en evighet innan rävarna äntligen får dö.
"After watching this video, do you still think it's fashionable with fur?"
frågar Stella McCartney i slutet av filmen.
Pälstillverkningen är grym över hela jordklotet, inte bara i Kina och inte bara när det gäller hundar och katter. Inom pälsindustrin använder man billigast möjliga metoder för att avliva djuren. Hur hemskt köttindustrin än behandlar sina djur, använder de i alla fall metoder som snabbt avlivar djuren. Köttet får inte smaka av stresshormoner. Det handlar om vinstmaximering, om att få ut en så bra produkt som möjligt, så att man kan ta ut ett så högt pris som möjligt. Rävarna och minkarna i pälsindustrin lider, men det syns inte i pälsen.
Far
Det gick inte längre för far att bo hemma. Nu var han så glömsk att vi var tvungna att flytta honom till ett demensboende. Ängslyckan, ett av kommunens boenden, visade sig vara ett väldigt bra ställe, och han trivdes direkt med personalen och de andra människorna där. Problemet var att han hela tiden oroade sig för sina djur. Han hade haft djur i hela sitt liv, och frånvaron av dem gjorde honom förvirrad och ängslig.
Jag och mina systrar funderade på om det snart skulle gå över, eller om det fanns något vi kunde göra. En dag tog jag med en bit lammpäls som jag smekte hans händer med, och han föll genast till ro. En bit lammpäls, ett dött lamm, fungerade lika bra som ett levande.
Det verkade absurt: päls som substitut för djuret självt. Ett annat minne dök upp, som handlade om samma sak. I slutet av 80-talet då jag levde ett liv utan djur, hade min väninna en kaninpäls. Varje gång vi träffades och kramade om varandra, ville jag inte släppa taget. Hon blev djuret jag längtade efter.
Mannen och hunden
Det var vinter och jag gick omkring i förorten Marzahn i Berlin. Något år tidigare hade jag intervjuat några människor där till filmen Es war ja nicht alles schlecht.
Marzahn är en fattig, grå "Plattenbau"-förort, vilket betyder att husen är byggda av prefabricerade byggelement. Berlinarna i DDR flyttade hit på 1960- och 70-talet ifrån fuktiga, mörka lägenheter i innerstaden. Här var husen välisolerade, det fanns varmvatten i kranen, badrum och centralvärme i stället för kolugnar. Bara det att slippa bära den tunga kolen från källaren upp till lägenheten varje dag hade varit himmelriket för dem som flyttade hit. Hälften av husen stod tomma nu; det var bara arbetslösa och pensionärer som bodde här.
Jag hade filmat rivningar av hus under dagen, och sent på eftermiddagen gick jag genom en park mot S-bahnstationen. Då fick jag syn på en man med sin schäfer. Mannen och hunden såg likadana ut. De var båda gamla och kutryggiga och rörde sig mödosamt. Mannen hade en päls som gick en bra bit under knäna, förmodligen en vargpäls, för det var samma färg och textur som schäferns päls. Jag blev tvungen att smyga efter och iaktta dem, tills de till slut försvann in i en port. Mitt hjärta var ömt; de var så fina tillsammans.
Pälsmotståndare som jag är fick jag något att grubbla över. Hade jag varit i innerstaden och sett en ung människa med likadan päls som sin hund, hade det absolut inte väckt någon ömhet i mig, tvärtom. Då hade jag tänkt på Paris Hilton-syndromet, hunden som accessoar, att det handlade om mode och image.
Att vi i dag måste kämpa för djurens rättigheter handlar ju om den tiden vi lever i nu. Jordens befolkningstillväxt har gjort att vi tränger ut de vilda djuren från deras hem. De enorma fisketrålarna skövlar haven. I fabriksuppfödningen får inte grisarna ett värdigt liv innan de blir bacon. Oddsen för människor respektive andra djur är så orättvisa.
I dag finns det andra material som är lika varma som päls. Mannen i Marzahn såg ut att vara minst åttio år och hade säkert haft sin päls det mesta av sitt liv. Vargen som fanns i mannens päls hade haft ett naturligt vargliv. På den tiden fanns det gott om vargar i Tyskland och Polen. Bönderna var tvungna att försvara sina får mot dem. Har man skjutit en varg, så naturligtvis ska man använda pälsen också, allt annat vore slöseri.
Jag kommer ihåg en söndag för trettio år sedan när vi åt Bamse till middag. Bamse var min "häst". Egentligen var han en oxe, men eftersom mina föräldrar inte hade råd att uppfylla min önskan om en häst, så pysslade jag om Bamse som om han var en. Jag ryktade honom när jag kom hem från skolan, höll hans päls skinande blank och kelade med honom som med min hund. Jag kunde sitta på honom, men inte rida, det ville han inte. Han var ett mycket stort keldjur till sist, som kom springande när jag kom hem från skolan och ville bli kliad runt hornen. En dag var han fullvuxen och skulle åka till slakt. Vi hade självhushåll, och de djur vi hade åt vi upp. Så var det. Den här söndagen var mors röst ostadig, när hon berättade att det var Bamse vi skulle äta. Hela familjen satt tysta och allvarliga och åt. Jag tänkte på min Bamse, men jag lät inte bli att äta honom. Jag var hungrig.
Lisa Strömbeck 2009